NexTorch myTorch 18650 Review
Manufacturer Specifications
Cree XP-G R5 LED (50,000 hour lifespan)
Battery
: 1 x NT18650a rechargeable with USB connector
Reflector: slightly orange peel
MSRP: none listed
Dimensions
- Length: listed: 156mm
measured: 160mm
- Diameter (head): listed: 36mm
measured: 36mm
-Diameter (body) : listed: 26mm
measured: 26mm
- Weight: 132 grams (excluding rechargeable battery)
- Digitally-regulated circuit maintains constant brightness
- Anti-Roll
-Waterproof: IPX-7, 1 meters
-

Toughened acrylic lens with (anti-reflective) coating
- Coating: Type III Hard Anodized
-
Material: Constructed of 6061-T6 aircraft grade aluminum
- USB programmable infinite modes
- Runtime of 180 minutes
Output Modes
-
Infinitely adjustable modes between 10 and 200 lumens.
-
Blinking modes can be programmed to constant frequencies or changing.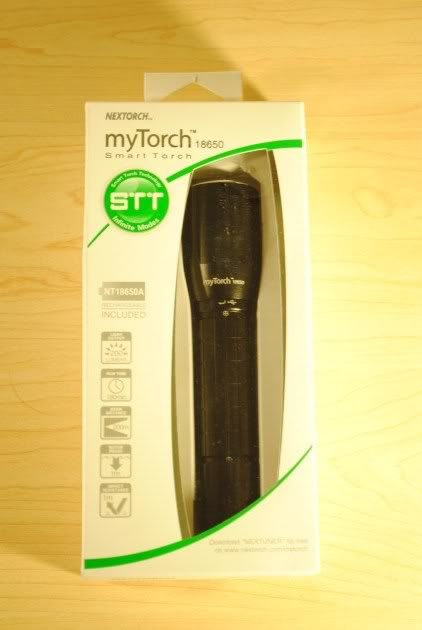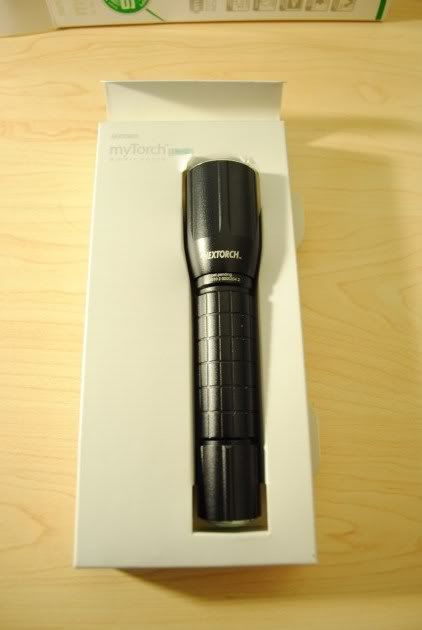 Design (body):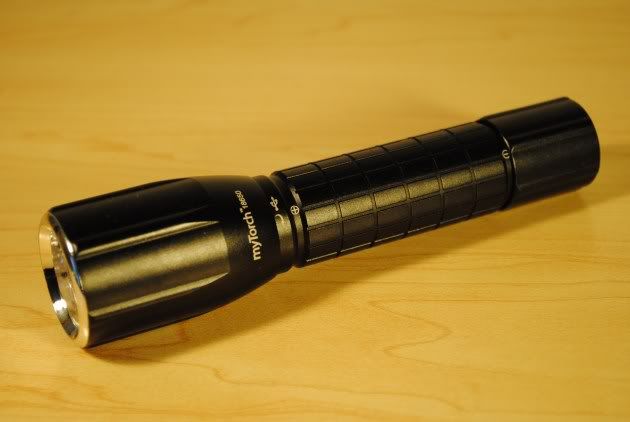 The NexTorch myTorch 18650 is on the whole a smoother body design than most of the other 1x18650 flashlights on the market. It does not really have that "tactical" look to it, and it seems that it was not designed this way from the start. It does not have standard tactical designs such as a crenelated bezel, tactical ring, lanyard attachment, clip, or even knurling. The flashlight seems to have been designed in a more standard-use design which takes comfort and practicality into account more than situational usage.
The myTorch 18650 has a body which is approximately 160mm long and 36mm wide at the widest part of the head. The flashlight body tapers off in diameter and is slimmer in the center.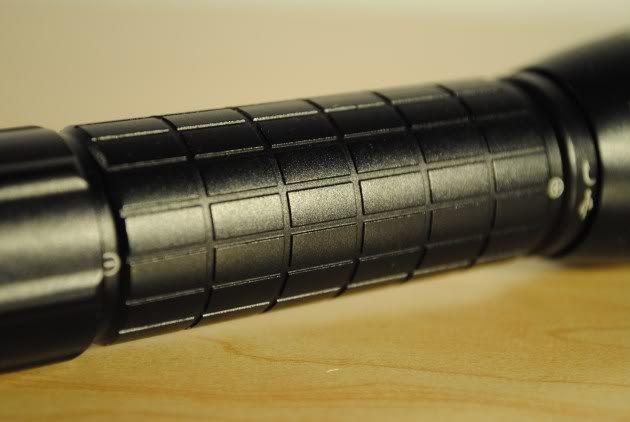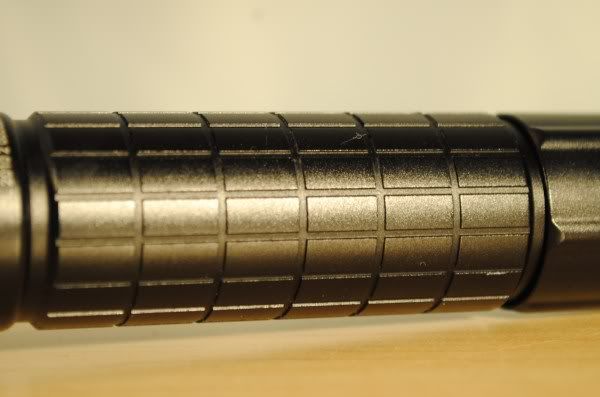 The center of the body tube has shallow rectangular indentations which seem to have been a replacement for knurling. I think this was done more for aesthetic reasons as these indentations do not offer too much grip. I think traditional knurling may have made more sense, but again this flashlight was not designed to be tactical to begin with. These indentations do offer some grip, but it is most certainly not as much as true knurling.
The tail-cap has a series of grooves which protrude outwards which are the same style of grooves found on the head of the light. These grooves are smooth but deep enough to offer more grip than the rectangular indentations on the body. They are helpful on the tail-cap for twisting the cap off, and are useful on the head for unscrewing the head to expose the USB connector. They also are good for anti-roll, although keep in mind they aren't too large so if a surface is fairly steep, it will still roll off.
The flashlight body is overall very ergonomic and smooth around all edges. The tail-switch is a very even transition from the metal housing to a metallic ring which surrounds the actual rubber clickie. This makes it very easy to depress the switch since you won't have any metal parts surrounding the rubber switch. Keep in mind that this also means that the flashlight cannot tail stand, since the rubber switch is rounded.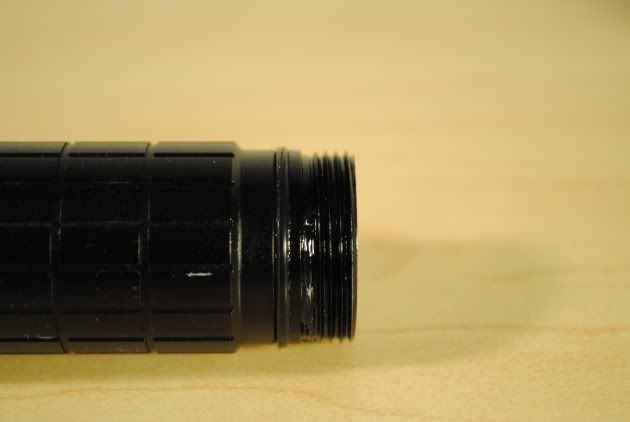 The threads on the myTorch 18650 are standard triangular shaped threads. While I prefer squared threads, they are generally smooth enough and work well.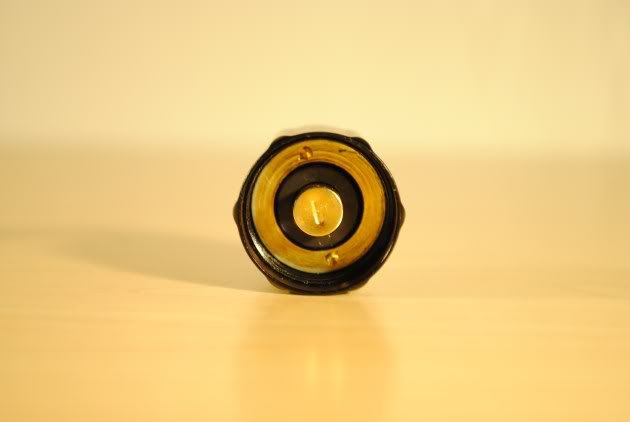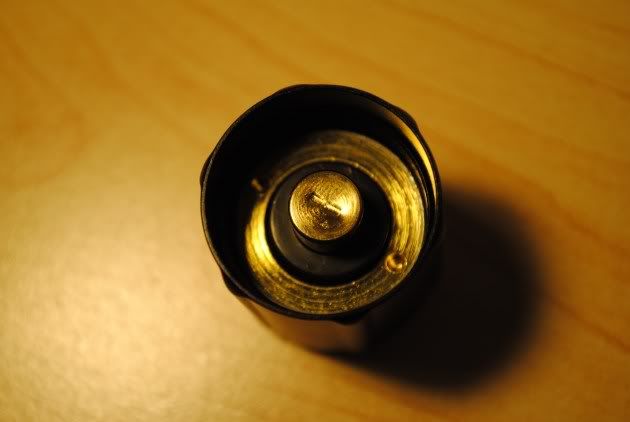 The tail-cap is a bit different than most other styles of tailcaps I have seen. Most traditional tailcaps have a spring mechanism inside which is visible when the flashlight is opened. This flashlight has what looks to be a brass cover over the spring which protects the battery from any sharp edges and is claimed by Nextorch to be gold-plated. I have had issues with one flashlight in the past where the metal spring would wear down the battery terminus because it had some sharp edges, so I'm assuming that this was done to protect the battery. I attempted to take apart the tail-cap to see how it was made inside, but it is on very tight and won't budge. Since the tail-cap is not replaceable anyways, I don't really mind not being able to take it off too much, but if there is ever a problem with the switch and I would like to take it apart, I would have a bit of a problem.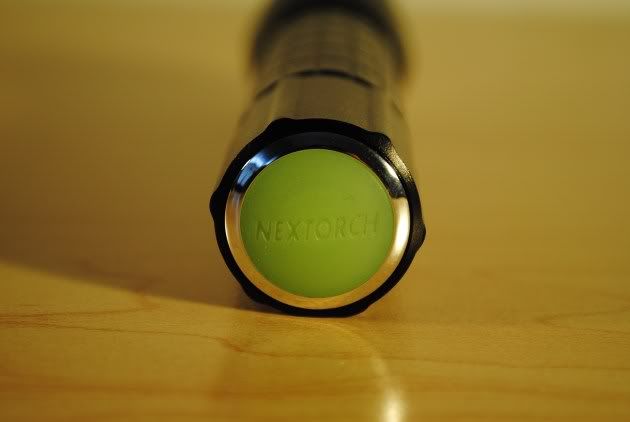 The rubber tail-cap switch is glow-in-the-dark. This switch does not have a momentary-on function. It must be fully depressed and released in order for the light to turn on.
Design (head/reflector):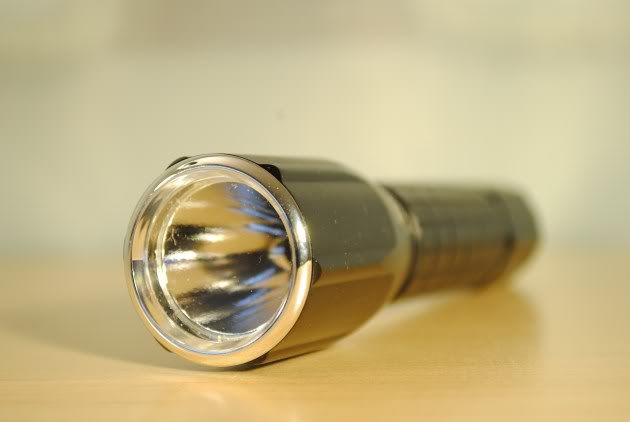 The reflector on the Nextorch my Torch 18650 is slightly orange peel textured and is very deep. For comparison, it is quite a bit deeper than the reflector on a Fenix TK20, which is a flashlight geared towards throw. This depth and overall size gives the myTorch 18650 very good throw, with a tight and well defined hotspot. The orange peel reflector obviously decreases its throw a bit, but this reflector gives the flashlight a nice area of spill as well.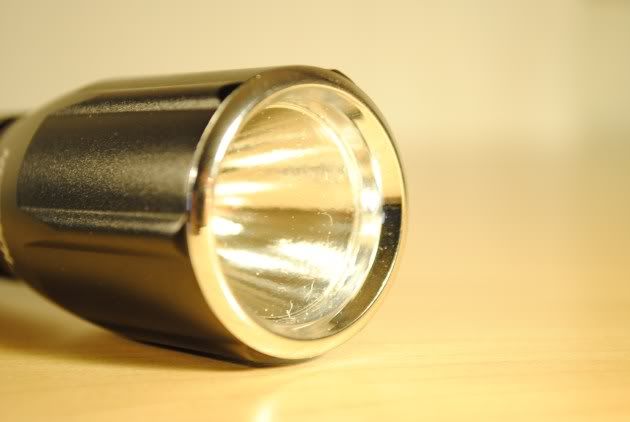 When the head is unscrewed in order to reveal the USB connector, the reflector housing does not move with the head. The LED and reflector are stationary while the metal head housing unscrews. This leaves a large gap between the reflector and the metal head when the flashlight is opened for USB connection. Obviously the flashlight is not intended to be used like this, but I noticed while this was unscrewed that there does not seem to be an o-ring between the metal housing and the reflector/lens. I can't be 100% certain but to me there is nothing there.
There is an o-ring on the bottom part of the head, near where the USB connector is, but not on top. Unless there is an o-ring inside the head somewhere, I don't believe it could possibly be waterproof when tightened. When the head is tightened, there is no visible gap between the head and lens on the myTorch 18650, but on the AA versions there seems to be a small gap, no matter how tightly you attempt to close it. This and a combination of no o-ring would lead me to believe that water could get into the flashlight.
Balance/Size: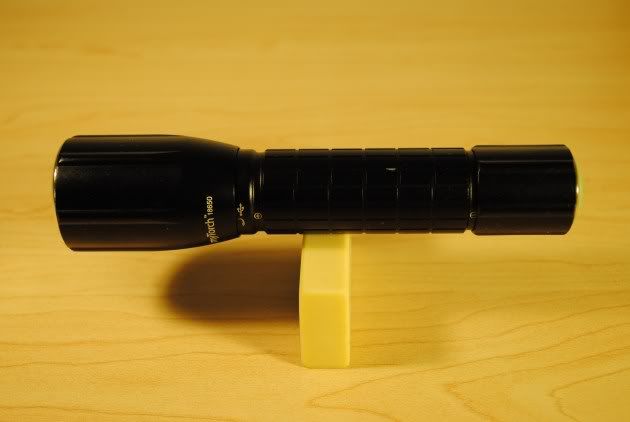 The myTorch 18650 has good balance and it's very smooth and ergonomic design makes it very comfortable to hold.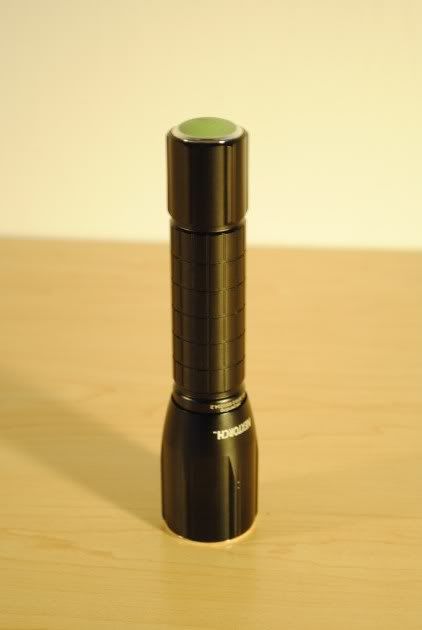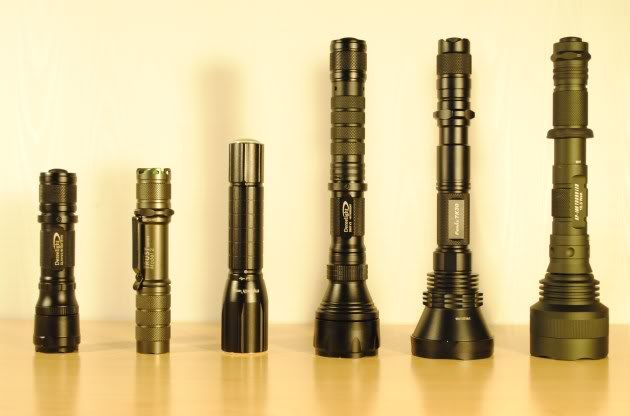 LED/Beam: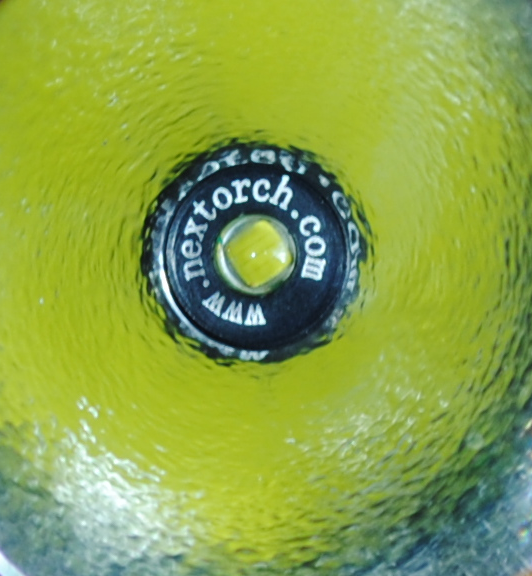 The myTorch 18650 has a deep and fairly wide reflector which houses a Cree XPG-R5 LED. The tint on the beam is a cool white and the hotspot is very tight and well defined. At the same time, the OP reflector gives the beam a nice even ring of spill as well.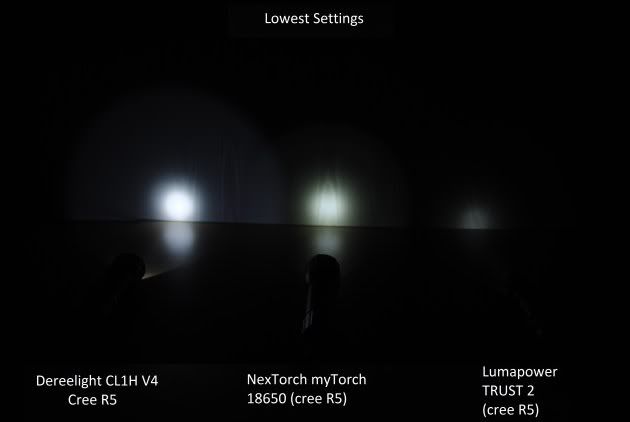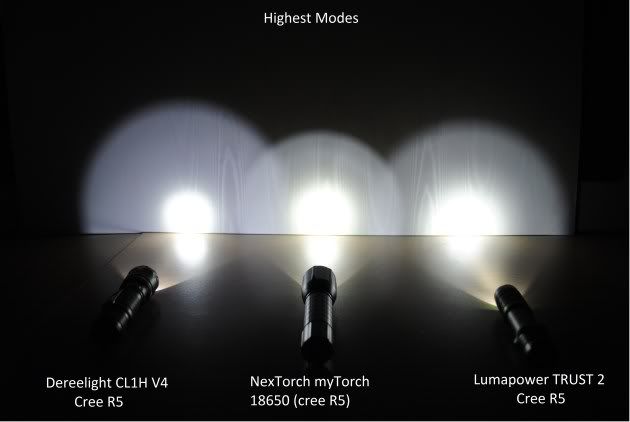 User Interface:
The user interface is obviously the selling point of the myTorch 18650 and is most likely what most people are going to be interested in. This user interface takes configuration to another level by giving you the option of hooking it up to your computer via a USB cable and programming the different modes any way you wish. (using its new Open Programming Control Chip – OPCC) I have never seen or used a flashlight that had this capability so I was very curious to see what it would be like.
To begin with, the flashlight comes packaged with a USB connector which is actually powered, meaning that it can be used to charge the battery on the flashlight as well. The other myTorch flashlights ( AA and AAA) also come with a USB cable but this cable is only for programming and does not carry any power, thus it can't be used for charging.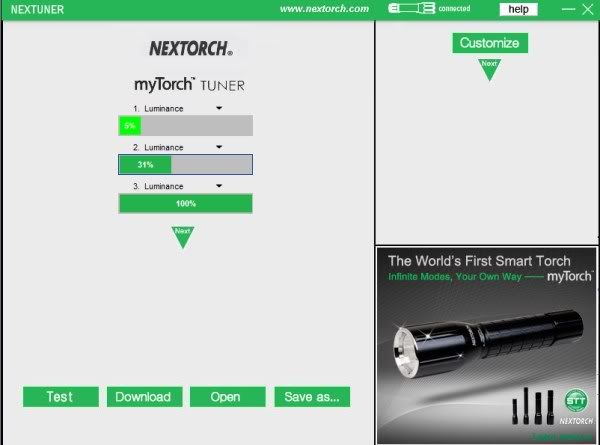 Before you can program the flashlight, you will need to install the program "NexTuner" on your computer, which is available for download directly on Nextorch's website. This program is very small, less than 1mb in size, and very easy to install. I use windows so I'm not completely certain if it works perfectly with macs.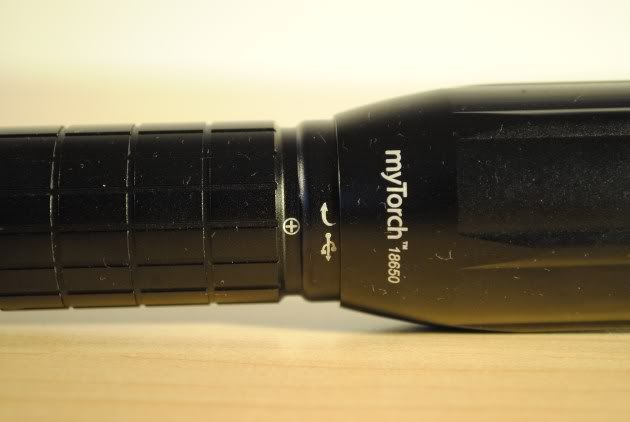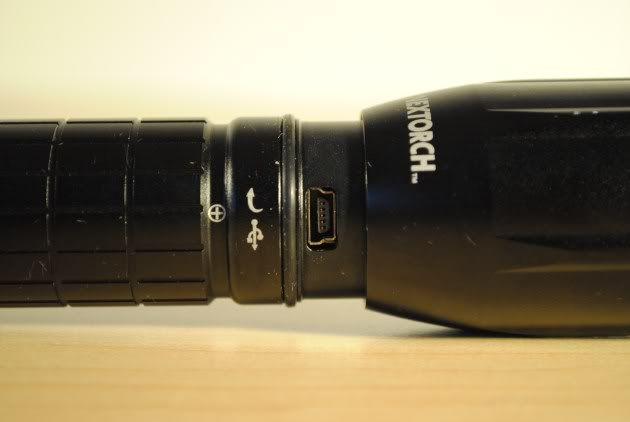 After installing the program, you simply unscrew the head of the flashlight to expose the USB connector and you plug it into the computer with the included cable. Then you run the program. NexTuner is very straightforward program and consists of an application window with a "tuner bar" which lets you adjust the brightness of the flashlight anywhere from 5% to 100% brightness. (Keep in mind that the flashlight must be connected before any of this can be done.) You can choose as many different settings as you want, simply adding more settings with the "next" button. (up to 50 settings) I prefer having low settings first, so I programmed 3 settings into my flashlight: the first setting at 5% brightness, another setting for 30%, and a third for 100%. (these settings are accessed by tapping the tail-switch lightly while the flashlight is on) I have no need for blinking modes but it is also possible to add these modes as well. You can even adjust at what frequency you want the flashlight to strobe (from 0.5 Hz to 20.0 Hz ) You can even program a variable frequency strobe into the flashlight by selecting different brightness levels for the same blinking setting. Once you have chosen the settings you want, you press the "download" button and these settings are saved onto your flashlight. You can even press the "test" button before you download anything to make sure the settings are what you want. (the flashlight will turn on at the selected mode while plugged in) You then simply disconnect the flashlight and you are set to go. The Nextuner program also allows you to save many different profile settings so it's very simple to create additional profiles and change them easily in case you don't like what your new settings are or if you need to frequently change them.
This system of using the computer to mode-program the flashlight is very innovative and is something which I had never heard of prior to the myTorch series. I can see various benefits and some downfalls to this system. First, the benefits are that this system allows the user to program the flashlight any way with as many modes as required. This gives the user as much power as flashlight designers who program modes themselves. This is obviously a very large benefit. Also, it's very nice to be able to eliminate blinking modes and to change their frequencies. Using the computer to change mode settings is also very simple and very fast, as long as you have a computer nearby. This is where I can see a potential downfall on the myTorch series. If you don't have access to a computer and want to change the mode settings you are out of luck. There is no other way of changing settings and you will have to wait until you can plug it into a computer. If you are out in the field, this might not be an option. If you are someone who needs to change mode settings while away from home/work, then this might be something to keep in mind. Another downfall of the user interface system is that there is no mode memory, meaning the light will always turn on at the first setting and will cycle through all settings until reaching the last one, and will then start once again at the first setting. If the flashlight is turned off and then back on quickly, it will turn on at the next mode, but this really isn't memory mode since in my experience if the flashlight is kept off for more than 20 seconds, it will always turn on at the first mode. Under 20 seconds and it will turn on at the next mode.
Overall, I think the user interface system is very advanced and the fact that it is so customizable is a very large benefit. I also admire when flashlight companies produce something different that is still effective and this certainly fits that category.
Battery: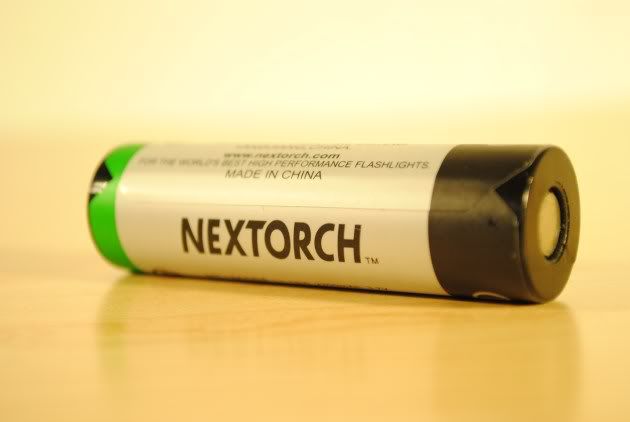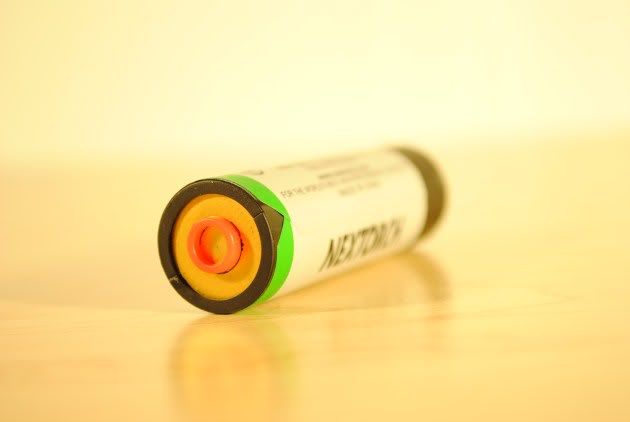 The NexTorch myTorch 18650 comes included with a rechargeable nextorch 18650 battery. This flashlight can be charged directly from your computer using the included USB cable.
Conclusion:
The NexTorch myTorch 18650 is a very innovative flashlight which implements a very advanced system in order to give the user a very easy and customizable variable mode operation. This system is sure to impress many people since it can be tailored to specific users' preferences and be changed over and over until a favorite and most effective sequence of modes and brightnesses are reached. The flashlight is designed to be sleek and comfortable to hold and is not designed with many "tactical" factors. Some users might not like the fact that it has no lanyard attachment or clip, or that it cannot tailstand. The lack of an o-ring on the removable head seems to indicate that water might seep in, yet the flashlight is rated IPX-7 so there may be an o-ring further down the inside of the head which is just not visible. Overall this is a very different product which implements a very nice system to give the user the choice of modes and not leave this decision to the manufacturer. I'm sure many users will really enjoy this light.